Patriot Restoration Ops (PROPS), a nonprofit organization dedicated to assisting veterans in transitioning from military service to civilian life, is making significant strides in creating a meaningful impact in our nation's forests. Founded on the core principle of helping veterans find purpose and employment in the outdoor industry, PROPS has developed an innovative program that addresses the pressing need for a skilled workforce and contributes to critical conservation efforts in the West.
One of the most significant challenges faced in these regions is the shortage of a skilled workforce to restore vast acres of forests. Recognizing the need for an increased workforce in the outdoor sector, PROPS was born with a dual mission: to provide veterans with opportunities for fulfilling careers and to support essential environmental restoration work.
PROPS actively engages with veterans to identify roles that align with their skills and interests, either within the organization itself or by connecting them with partners in the field. The organization provides comprehensive training in forestry, equipment operations, prescribed fire management and various other skills crucial to conservation efforts.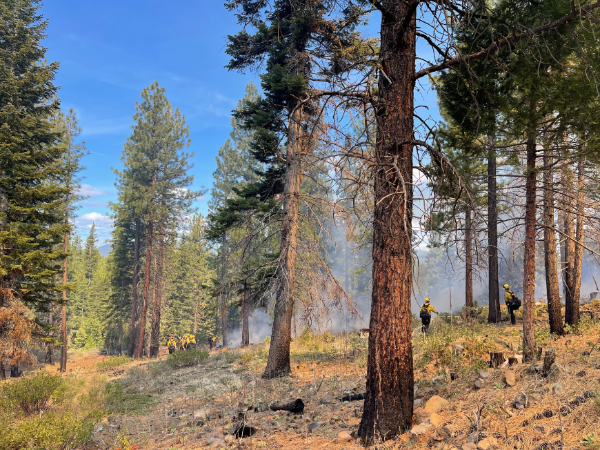 "PROPS is positioned to provide transitioning soldiers and their families the opportunity to engage in the incredible work being done within the forest heath and wildlife habitat restoration projects across many regions," said Dale MacDougall, founder of Patriot Restoration Ops. "These projects, along with fuels reduction projects that promote community and forest safety, are all a part of the many opportunities the PROPS workforce engages in. The outdoor experience and team spirit align well with those on the PROPS team that look to continue having a positive impact in their post-service efforts. This is an incredible benefit to all, as dedicated veteran crews expand our capacity to get more of this much-needed work done. PROPS working alongside NWTF is a natural and seamless fit. NWTF has an incredible history regarding veteran support and alignment, and the team mentality carried through to this partnership is a complement to the shared values that PROPS supports and operates within."
As a nonprofit entity, PROPS is committed to contributing positively to the environment while assisting veterans in their post-military careers. The organization's impact is already evident through its involvement in key projects, including the Colt project in Region 5, a fire salvage project in California.
Working with the NWTF, the California Deer Association and the USDA Forest Service, crews removed a portion of the trees and fire salvage in the Klamath National Forest, thinning the stand to reduce the risk of future catastrophic fires. Additionally, many of the trees removed from the forest were transported via rail to timber mills in Wyoming through the Timber Transport Pilot.
Currently, PROPS is subcontracted by the NWTF under the Region Six Supplemental Project Agreement with the Forest Service. PROPS' role in the region includes a wide range of restoration tasks, such as removing forest byproducts from the ground, onsite management, reporting, machine operation and controlled burns. Work began on Sept. 29 in the Fremont-Winema National Forest near Chiloquin, Oregon, with the organization playing a pivotal role in the Hawks project. This project spans over 5,000 acres of treatment, including meadow restoration and riparian area hand treatment. The primary focus of the Hawks project is fuel removal and habitat enhancement.
"The Hawks project is not only enhancing wildlife habitat by removing encroaching conifers from meadows and riparian corridors, but is also providing wood volume to local mills," said Molly Pitts, NWTF wildfire crisis manager. "Maintaining local industry infrastructure is critical to restoring our forests long term."
PROPS continues to expand its reach and impact, bridging the gap between veterans seeking post-military careers and the need for more workers in conservation and forestry. The organization's dedication to both veterans and the environment underscores its commitment to making a lasting difference in the lives of those who have served our country and in the health of our nation's forests.
For more information about Patriot Restoration Ops, visit its website, here.
National Wild Turkey Federation
PO Box 530
Edgefield South Carolina 29824
United States