Opportunity provides deeper understanding of at-sea operations and ideas on expanding online military educational offerings
WEST LAFAYETTE, Ind. – It was the experience of a lifetime for members of a Purdue University delegation as they cruised the Pacific Ocean on the USS Nimitz with almost 5,000 sailors.
Frank Dooley, chancellor of Purdue Global; Dimitrios Peroulis, senior vice president for Purdue University Online; and Kelvin Gumbs, executive director for educational partnerships in Purdue's Office of Industry Partnerships, participated in this firsthand experience, which offered a unique view into the training-rich environment of sailors at sea, learning about ways to strengthen educational opportunities for officers and enlisted personnel.
"It was truly a once-in-a-lifetime opportunity," Dooley said of his weekend at sea. Approximately 300 dignitaries a year visit the Nimitz (CVN 68), a supercarrier and the lead ship of the U.S. Navy's Nimitz class of nuclear-powered aircraft carriers.
The trio started their visit receiving briefs at the Naval Air Force, U.S. Pacific Fleet headquarters and then took off from Naval Air Station North Island in Coronado, California, on a C-2 Greyhound aircraft, which made an arrested landing on the Nimitz.
"The arrested landing forces the aircraft to stop completely within a second or two. The deceleration that you feel is immense — going from 160 miles per hour to zero," Peroulis said. "By the time you realize what is going on, it has ended. It's only a few hundred feet and the plane has stopped."
Dimitrios Peroulis, senior vice president for Purdue University Online; and Frank Dooley, chancellor of Purdue Global, on the flight deck of the USS Nimitz.
Once on board, the Purdue delegation began meeting with the admiral, commanding officer, executive officer, command master chief, and other officers and enlisted personnel, touring most areas of the ship.
A highlight of the Purdue delegation was watching the crew perform about 180 daytime and nighttime flight maneuvers, in some instances observing from just 30 feet away as F/A-18 Super Hornets launched from the flight deck.
"All of these men and women serving on the USS Nimitz have received training and are constantly training," Dooley said. "It is incredible, and it shows how the team all knows how to work together in their areas. Everyone knows what they are supposed to do. It's a well-organized and -operating machine."
Purdue Global serves approximately 10,000 military-affiliated students, a population that includes uniformed personnel, veterans and eligible dependents. Purdue University Online serves about 200 military-affiliated students through its online master's programs.
As the trio toured the ship, they were continually greeted with "Boiler Up!"
"There were people who shared stories of relatives and friends who had come to Purdue; some people had themselves been to Purdue. There was a Purdue connection almost everywhere, which was impressive," Peroulis said.
Dooley, Peroulis and Gumbs learned of the need for continuing education for sailors of all ranks, especially after their time in the service, and saw firsthand not only where they work but also where they live and would study. The group plans to further develop programs and procedures to make online learning programs more innovative for Navy and other armed forces personnel and more aligned with sailors' professional development needs.
"The fact that we can serve both officers and enlisted personnel at the same time through the virtual campuses of Purdue was intriguing to them, as they are aware of Purdue's quality education and commitment to the military. This is where Purdue is positioned so differently than other schools," Dooley said.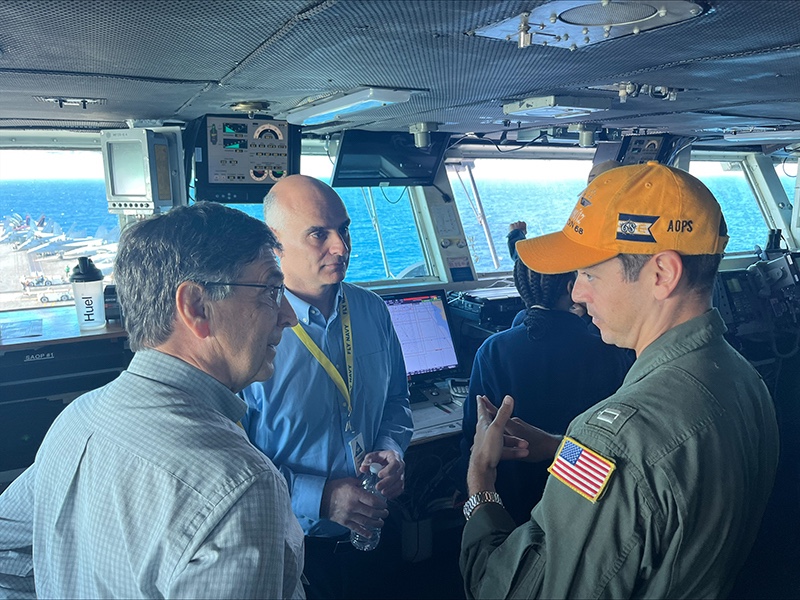 Frank Dooley, chancellor of Purdue Global (left), and Dimitrios Peroulis, senior vice president for Purdue University Online (middle), learn about naval operations while on the bridge of the USS Nimitz.
Gumbs, himself a Purdue Global grad and a Navy veteran who previously served on the Nimitz, said the visit allowed everyone to understand and witness the training and learning that takes place on board.
"America's Navy provides a tremendous opportunity for young people to receive highly technical training and learn countless skills, develop themselves as leaders, thinkers, communicators and innovators, all things that also translate smoothly into success as adult learners and our military students," Gumbs said.
The visit also renewed a commitment to improve access to the various programs offered through Purdue Global and Purdue University Online.
"I appreciate the dedication, professionalism and skill that the Navy has. You really get to understand how much they sacrifice to accomplish their missions," Peroulis said. "We want to further improve the quality of the opportunities we offer those crew members in their next career steps.
"Getting to know the people behind that and understanding the challenges they face, the sacrifices they make and the dedication to our country really increased my appreciation for them and my desire to serve them as best we can," Peroulis said.