Columbus, OH   – The National Association of Sporting Goods Wholesalers (NASGW), the association representing shooting sports wholesalers, manufacturers, and their trade partners, announced the winners of their annual Appreciation and Caliber Awards during their Appreciation Dinner at the NASGW Expo, in Columbus, OH.
After a blown transformer knocked out power around the downtown Columbus area around 1pm on Tuesday, there was some uncertainty surrounding the dinner and awards ceremony. Despite the challenges the show went off as expected.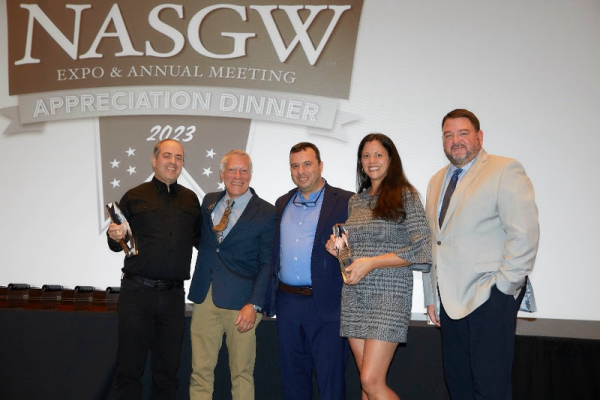 NASGW President Kenyon Gleason and Board Chair Chris Means pose with representatives from Coreware and Celerant.
"What a fun night in Columbus at the Annual Appreciation Dinner, despite the power outage earlier in the day" said Kenyon Gleason, NASGW President. "When the power went down after lunch we weren't sure what to expect, but everything worked out and it was a great night."
Each year the NASGW Expo brings together wholesalers and manufacturers within the shooting sports industry to get a first look at new products and plan sales for the upcoming year. Included in the Expo festivities is NASGW's Appreciation Dinner.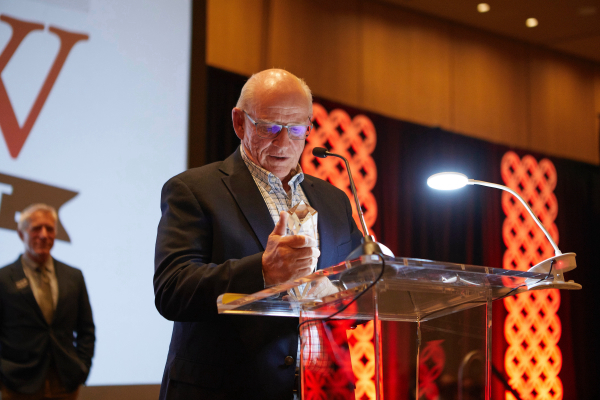 Outdoor Wire Digital Network publisher Jim Shepherd receives the 2023 NASGW Chairman's Award.
Winners for the NASGW Appreciation Awards are:
Firearm Manufacturer of the Year
Ruger
Optics Manufacturer of the Year
Leupold
Ammunition Manufacturer of the Year
Hornady
Accessory Manufacturer of the Year 
American Outdoor Brands
Importer of the Year
Century Arms
Innovator of the Year
Smith & Wesson
In addition to the annual awards, NASGW also recognized Coreware, Celerant and Orchid for their partnership in NASGW's SCOPE CLX platform. "I truly appreciate each of these businesses and their contribution to SCOPE," said Gleason. "Together we are accomplishing big things and the industry is benefiting from the great data."
For his multiple decades of contribution to the shooting sports industry, through his digital publication, The Outdoor Wire, Jim Shepherd was awarded the 2023 NASGW Chairman's Award. "For the last 23 years Jim has filled our inboxes on a regular basis and been a supporter of our industry for even longer," said NASGW Chairman, Chris Means. "When the day comes for him to write his farewell retirement email, he will have left our industry in a better place."
In addition to the Annual Appreciation Awards, the National Association of Sporting Goods Wholesalers (NASGW) in partnership with the Professional Outdoor Media Association (POMA), selected the top products in seven categories including: Best New Rifle, Best New Handgun, Best New Shotgun, Best New Ammunition, Best New Optic, Best New Suppressor, and Best New Accessory. An independent panel of 18 industry judges selected the winners in each category as well as a Best Overall New Product. In order to qualify, manufacturers needed to be an NASGW member in good standing, the product must have been publicly released between the end of last year's NASGW Expo and the beginning of this year's Expo, and submission of the products was required through the NASGW Expo New Product Showcase, found on the NASGW Expo website.
"We had a record number of product submissions this year," said Kenyon Gleason, NASGW president. "Congratulations to all of our finalists and winners. It truly is an honor to take home a Caliber Award from the NASGW Expo."
The Caliber Awards offer a unique, unbiased approach to recognizing and honoring new innovative products. The voting panel is comprised of the people who buy and sell these products on a daily basis as well as the media members who review and report on these products in the field.
"As the new Executive Director for POMA, it was great to be a part of the Caliber Award Announcements and to see all the 2023 winners," said POMA Executive Director Rob Sexton. "I look forward to seeing what these great companies come up with for next year's awards and for years to come."
Being chosen as a finalist is an honor in itself. Almost 200 submissions were narrowed down by the panel to three finalists in each category. Judges were asked to consider the uniqueness, market need, value of the product, ingenuity, and presentation. The winners of this year's Caliber Awards are:
Best New Accessory
Caldwell – Flash Bang AR500 Steel Target Hit Indicator
Best New Ammunition
Hornady – 7mm Precision Rifle Cartridge
Best New Handgun
Springfield Armory – Echelon
Best New Optic
Holosun Technologies – Digital Reflex Sight – Night Vision (DRS-NV)
Best New Rifle
Marlin – Marlin® Model 336™ Classic
Best New Shotgun
Weatherby – ORION SxS
Best New Suppressor
Rugged Suppressors – Alaskan 360Ti™
Best New Overall Product
Marlin – Marlin® Model 336™ Classic
About NASGW
The National Association of Sporting Goods Wholesalers is comprised of wholesalers, manufacturers, independent sales reps, media and service providers – both national and international – all of whom are primarily focused on shooting sports equipment and accessories. As a trade association representing the business interests of its members, NASGW's mission is to bring shooting sports buyers and sellers together. For more information about the NASGW, visit the association's website at www.nasgw.org.
About POMA
POMA continues to uphold its tradition of promoting excellence in communications at all levels. This includes connecting the companies and organizations whose focus is the outdoor industry with the content creators who can help tell their stories and promote their products.
For More Information Please Contact:
Gregg Alexander
National Association of Sporting Goods Wholesalers
galexander@nasgw.org