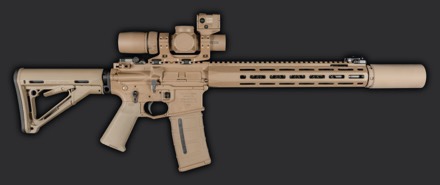 Announced last week by the MoD, the contract for the Alternative Individual Weapon System was announced by the Ministry of Defence. The AIWS is a version of the KS-1 carbine in 5.56 NATO, manufactured by Knights Armament Co.
Yesterday, representatives from the British Army and Edgar Brothers signed a symbolic version of the contract.
Col Paul Cummings, Dismounted Close Combat Portfolio Leader and COL Stu Nasse, Field Army Representative, along with Mike Newman, Director, Edgar Brothers sign the contract for the L403A1 Alternative Individual Weapon System for the British Army and Royal Marines.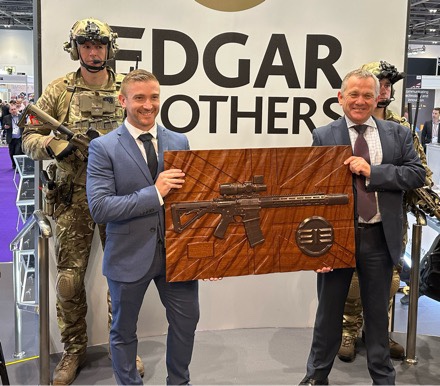 Nick Taylor, Head of Soldier Training and Special Projects receives a commemorative plaque on behalf of the Army from Matt Grundy Edgar Brothers Senior Manager.
The plaque, crafted from slate and reclaimed wood is part of the Social Value Model projects Edgar Brothers will undertake pursuant to this contract. It was crafted by Dan Earp-Jones a former Royal Marine.
Additionally, C. Reed Knight, Jr. and C. Reed Knight, III presented a bayonet to Nick Taylor, Head of Soldier Training and Special Projects.
Here is a photo of representatives from the government and industry team that made AIWS possible.