Griffin Armament's new M4SD-L (LIGHTWEIGHT) sound suppressor is the first tubeless laser welded suppressor to be introduced to Griffin's versatile Gate-LOKTM lineup. This design makes the M4SD-L lighter than other Gate-LOKTM suppressors. Combining ECO-FLOWTM baffles, Gate-LOKTM mounting system, and Pressure Reduction Cap results in a lightweight, durable, and performance-rich next-generation suppressor.
The M4SD-L features Griffin's Gate-LOKTM mounting system which allows for rapid installation and removal with the ability to be mounted to most USGI-spec A2 NATO compensators, as well as all Griffin proprietary Gate-LOKTM muzzle device options. The GATE-LOKTM system is faster and easier to use than standard A2 interfaces and ensures a strong, concentrically aligned mount with minimal POI shift and exceptional repeatability.
Each individual baffle in the M4SD-L has been tuned to provide superior sound reduction and incorporates Griffin's patented ECO-FLOWTM technology that reduces back-pressure and increases flow. This makes the suppressor host firearm operating system more reliable and largely un-affected by the suppressor and provides cleaner breathing air to the operator's face. Each baffle has been individually tuned and engineered for a specific purpose, unlike a classic stack design. With the M4SD- L, each baffle has an independent function to improve performance.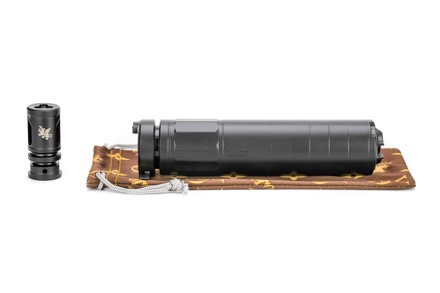 The patent pending Pressure Reduction Cap features high performance internal and external flash reducing features, as well as optimally tuned gas vents which not only enhance flash reduction even further, but also improve sound performance in conjunction with the ECO-FLOWTM baffles.
When asked about the suppressor, Austin, head of Griffin Armament product development said,
"We manufactured the M4SD-L for demonstration to the military and provided many units to the military for as yet ongoing T&E. This GATE-LOKTM model was intended for experienced end users seeking greater optimization for real world conditions. This suppressor is now available for the consumer and export markets. The M4SD-L combines a wide range of innovative Griffin engineering developments to bring an incredibly well- rounded suppressor to market. The M4SD-L also shows our current customers our continued commitment to the Gate-LOKTM suppressor lineup, and to it's development and optimization."
– Austin Green
Key points:
• Laser-welded, tubeless design
• Rapid and versatile GATE-LOKTM mounting system
• Compatible with GATE-LOKTM or most USGI-A2 Spec Compensators
• 17-4 H900 heat-treated stainless steel
• Patent-pending flash reducing, and flow optimized end cap
• Patented ECO-FLOWTM baffle system for improved performance and shooting experience
• GATE-LOKTM Hammer Comp 1/2×28 5.56mm (.22 cal) muzzle device included
• 3?4" wrench flats on muzzle devices
• Suppressor body design patented, H900 heat treated and Hi-temp Cerakoted
• Protected BY Griffin's Perpetual Lifetime WarrantyTM
M4SD-L Specs:
• Dimensions: 1.5" x 6.5"
• Weight: 14.5oz
• Sound Pressure Level at shooter's ear : (136.1DB) 11.5″ Griffin MK1, (133.1DB) 16" Griffin MK1
• MSRP: $995.00
Accessories supported:
• GATE-LOKTM Muzzle Devices (GATE-LOKTM Hammer Comp 1/2×28 5.56mm included)
• USGI-A2 Compensator
To find out more on Griffin Armament's entire product line, please visit their website at www.GriffinArmament.com.