MARINE CORPS LOGISTICS BASE ALBANY, GA – The Marine Corps Advanced Manufacturing Center of Excellence (AM COE) recently helped the Navy solve a supply chain issue for the USS Kentucky.
The Kentucky, an Ohio-class ballistic submarine (SSBN), needed a specifically designed cover for a ventilation system, and a long lead supply chain and the complex geometry of the part meant that a creative solution was needed.
In December, Naval Sea Systems Command's Trident Refit Facility Bangor (TRFB), which is responsible for repairing, incrementally overhauling and modernizing the Pacific Fleet SSBNs during refits, contacted the Marine Depot Maintenance Command (MDMC). The AM COE, part of the Marine Corps Maintenace Command, leverages AM technology to increase depot production and bolster supply operations and expeditionary capabilities for the Fleet Marine Force.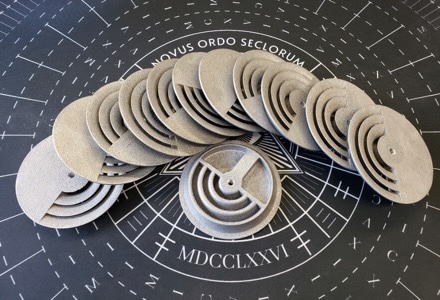 Aluminum printed by Marine Depot Maintenace Command's Production Plant Barstow using an EOS 400-1 machine for the USS Kentucky.
When TRFB reached out to the MDMC's Advanced Manufacturing team for a solution, they answered the call. The Marine Corps AM COE reengineered the provided drawings to meet 3D printer specifications and MDMC's Production Plant in Barstow, California, 3D printed the aluminum using an EOS 400-1 Machine.
This is the first additively manufactured metallic component produced to solve a supply chain issue on Ohio-Class submarines.
"We appreciate the tremendous work of the Marine Corps Advanced Manufacturing Center," said CAPT Mike Eberlein, commanding officer, TRFB. "Having access to AM greatly increases our efficiency and this is just one of many examples of multiple commands working together to solve problems for the benefit of our warfighters."
The Marine Corps AM COE continually explores ways to expand partnerships and welcomes inquiries from organizations across the U.S. Marine Corps, Department of Defense, industry and academia.
Learn more at the AM COE Website: Advanced Manufacturing Center of Excellence